I arrived at the Supreme Court early yesterday morning to attend the oral argument in Wal-Mart v. Dukes with ACLU Women's Rights Project Director Lenora Lapidus. At issue is whether this sex discrimination case against Wal-Mart should be allowed to proceed as a class action.
Outside the courthouse, long lines had formed — some people had been waiting since the predawn hours for a chance to see the argument. In the courtyard, women gathered for a rally to demand equal pay and an end to gender stereotyping of the kind the women plaintiffs allege was rampant at Wal-Mart.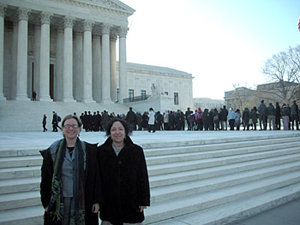 Lenora Lapidus, Director of the ACLU's Women's Rights Project (right) and I standing on the steps of the Supreme Court building. Behind us, a long line of people waited to enter the building to hear oral arguments in Wal-Mart v. Dukes.
Later, after the argument, some of the plaintiffs themselves would speak at a press briefing for reporters. Betty Dukes, the lead plaintiff, talked about how important it was to her that other working women not remain silent in the face of discrimination. Chris Kwapnoski told the story of a manager explaining that a male employee made more money because he had a family to support — even though she was a single mother with a family to support as well. Later, another plaintiff talked about the sexually harassing behavior she had experienced.
I had heard these stories before — we described some of this record evidence in the amicus brief that we filed in the Supreme Court in support of the plaintiffs. But hearing the women themselves tell their stories moved me and reminded me that gender stereotyping is more than allegations and pleadings in a lawsuit — it is real and hurtful, and contributes to the large numbers of women who live on the economic edge, trying to make ends meet on a paycheck that is small to begin with, and made worse by discrimination.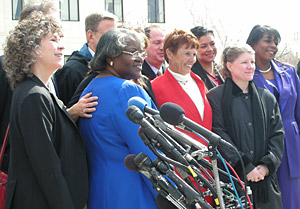 Wal-Mart v. Dukes plaintiffs, including Betty Dukes (left, in blue) and Christine Kwapnoski (right, in black), spoke to reporters after arguments.
Inside the courtroom, the Justices asked question after question to get at the difficult legal issues in the case. Justice Ruth Bader Ginsburg talked about the harms women suffer when managers are allowed to simply hire people who remind them of themselves. Justice Antonin Scalia asked whether the fact that Wal-Mart has an official policy forbidding discrimination should be enough to demonstrate that they had no policy or practice of discrimination. And Justice Stephen Breyer framed the "common question" (necessary for the case to proceed as a class action): Given the behavior of managers and the gender gaps in pay and promotions, all of which central management is alleged to have been aware of — should Wal-Mart executives have taken away from local managers some of the excessive discretion that they enjoyed in making pay and promotion decisions?